Yesterday, our friend, Sharkey, posted some fall foliage colors on her blog.  The images are delightful.  Our secondary road is enough south of her that we are a few days behind in the color tour.
Nevertheless, it sent me to the front deck this morning.  That's where I get a view of some of the first trees in the neighborhood to go through the transformation.  Here's the wide view: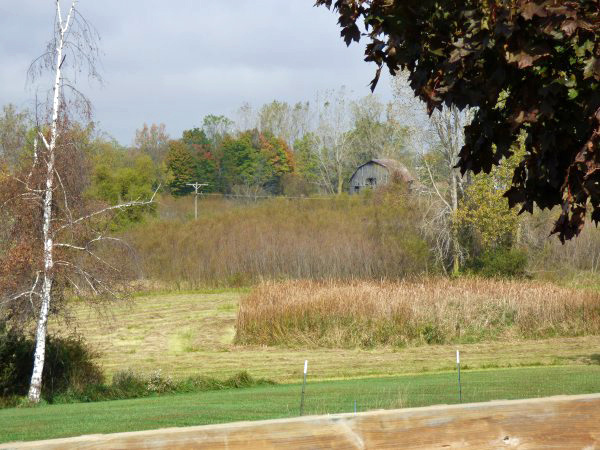 Neighbor, Bob, Cut hay last week and Sylvia power washed the decks.  Their combine actions seemed to bring on rain.  It's finally dry again.  Hay can dry and, if this weather holds, we can seal the decks.  Back to the color.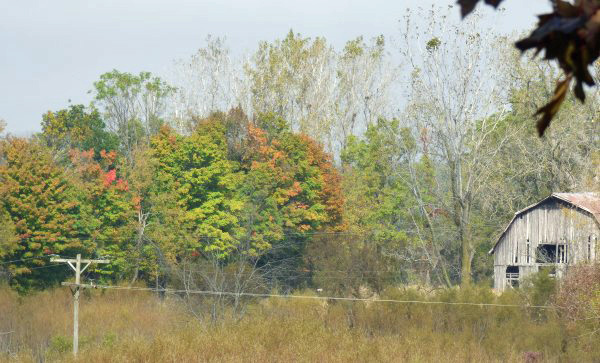 It's not much, but it's the best we can do for now.  It's scenes like these that bring joy and contentment to those that live in this house.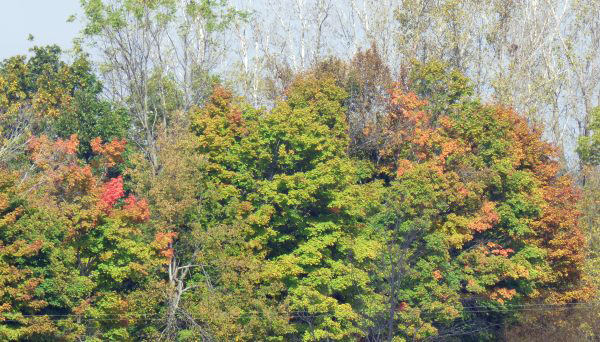 To my eye, that red on the left looked brighter.  Oh well . . .
Yesterday's Sighting
Last evening, as I was getting supper ready, my eye caught sight of the red-tail hawk sitting on a power pole.  He's been a regular visitor recently.  This time, he looked especially great in the fading light.
I went to a window and slowly lifted the blinds.  My plan was to go for the camera next.  However, as I finished lifting those blinds, he dove from the pole toward the ground.  Prey?  He was half way to earth when the strangest thing happened.  He seemed to split in two with one side going right and the other left.  Yes, it was a pair of red tails.  From my vantage point they appeared as one until they split apart.
The hawks turned to fly in the same direction, side-by-side.  I wish you could have seen it too.