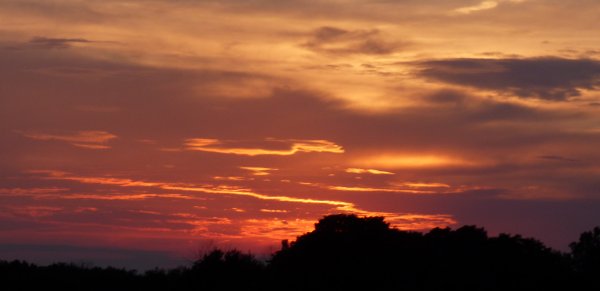 As the sun set last evening I stood on the front deck with camera in hand.  It was one of those "perfect" moments.  The sun was going down in a glorious way.  The air was pleasantly refreshing with just the slightest hint of a breeze.  Then I heard a cardinal calling.  I looked back over my right shoulder and saw him sitting high on my tower.
I looked back toward the west and then I heard a second cardinal calling–this time from my left.  This one was farther away.  I was enjoying the enchantment of the unfolding scene.
Then I spotted a fawn running on the hay field just beyond our lawn.  Soon I saw the doe, but only one fawn.  Where was the sibling?  As I watched mom grazing and the young one playing, it became obvious this was not the doe with the twin fawns.
A few minutes later, mom and the twins came out as they frequently do around sunset.  That was the first time I've seen the two does and three fawns together.  It gives me pleasure to watch those fawns play just for the pure joy and exultation of running, turning and leaping.  (Wouldn't it be nice to do that again?)
I found myself wishing that our granddaughter was there to share in the moment.  I came back in the house, took my camera to the office and sat down at the computer.  There was an e-mail from Briana.  That made my day complete.