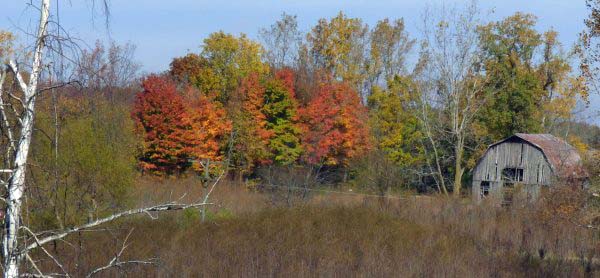 Beautiful fall day
Colors dance upon the trees
Perfect time of year
Helpful neighbors have made the last couple of weeks extra special for us.  It started with the gal that gave Sylvia a bushel of the best apples ever–crisp, naturally sweet, but tart and very tasty.  We made enough apple sauce for 26 pints.  Also an apple pie and some apple dumplings.  Sylvia's benefactor had never had apple dumplings, so Sylvia took her two of them–softball size.  We still have some for eating fresh, making pie and dumplings.
I had lined up some help for this week to cut up the fallen tree that the road commission had pushed out of the way.  Last Thursday we looked up from lunch to see our neighbor at the tree with chainsaw in hand.  We quickly finished lunch and hurried out to help.  The mess is gone.
Thanks neighbors.  You prove the maxim: "A friend in need is a friend indeed."