Sylvia has begun to harvest potatoes.  Some of them look as pretty as the ones you see in the store.  Most of them don't.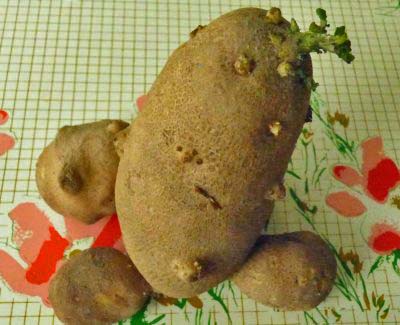 I like these organic, home-grown potatoes better than the pretty ones in the grocery store.  Plus, you'll not find one with its own built-in tripod there.
We have once again cut way back on meat consumption in favor of plant-based nutrition.  Okay, I'll make an exception for bacon-wrapped jalapeño poppers.
I don't have pictures of our poppers.  Who wants to take pictures when they come out of the toaster oven?  Not me!  I want to eat them while they are warm.
Much to our relief, one of the zucchini plants has stopped producing.  The other two can follow soon.  Please!