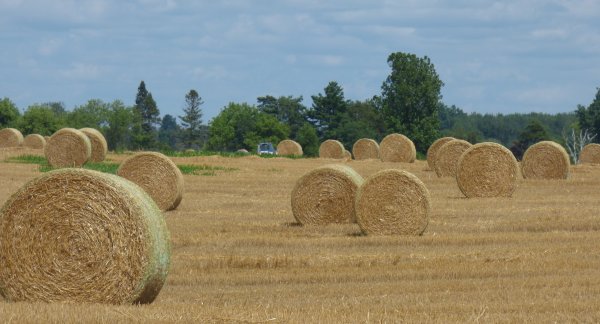 The neighbor has harvested the wheat from the field behind us and has baled the straw.  From here it look like a lot of straw.
Sunday evening, Sylvia and I were talking on the phone with our son in Omaha.  The sun had just set and it was a pleasant evening.  I took the phone outside and sat on our small deck to watch the fireflies.  A gentle breeze kept the mosquitoes away.
In the gather gloom, I became aware of motion on the low ground.  Turning my head, I saw the twin fawns and their mom.  The children wanted to play.  They would run and chase each other as fast as the wind.
I watched until I could no longer see them through the darkness.  Then I went back inside.  The fireflies kept telegraphing their messages to one another.
The garden is doing very well again this year.  As a wise friend observed, "You either have too much zucchini or you didn't plant any."  Our first try at cantaloupe is proving interesting as the single plant is trying to take over its corner of the world.  Sylvia pruned it back.
There is one exception to the flourishing garden.  Three times, Sylvia planted parsnips.  None of those plantings developed into parsnips. :no:
Save